Vapiano Afternoon Tea Set
Enjoy Afternoon Tea in Vapiano with you friends.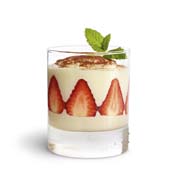 Vapiano Afternoon Tea
Hop in with your friends
between 2 and 5 every afternoon
and indulge in one of our "Afternoon Tea Sets" comprised of some finely selected salty and sweet delicious
such as a small Calzone Pizza, strawberry-topped Tiramisu or a piece of mouth-watering cake.
Enjoy this all in the company of our exquisite coffee and homemade tea.
top